曝光台 注意防骗 网曝天猫店富美金盛家居专营店坑蒙拐骗欺诈消费者




LAS VEGAS, Oct. 8, 2017 – The business jet aviation industry is likely facing a modest pace for near-term orders due to an uncertain economic and political environment along with a very competitive used aircraft market, per the 26th annual Global Business Aviation Outlook released today by Honeywell (NYSE: HON). The Global Business Aviation Outlook forecasts up to 8,300 new business jet deliveries worth $249 billion from 2017 to 2027, down 2-3 percentage points from the 2016 10-year forecast.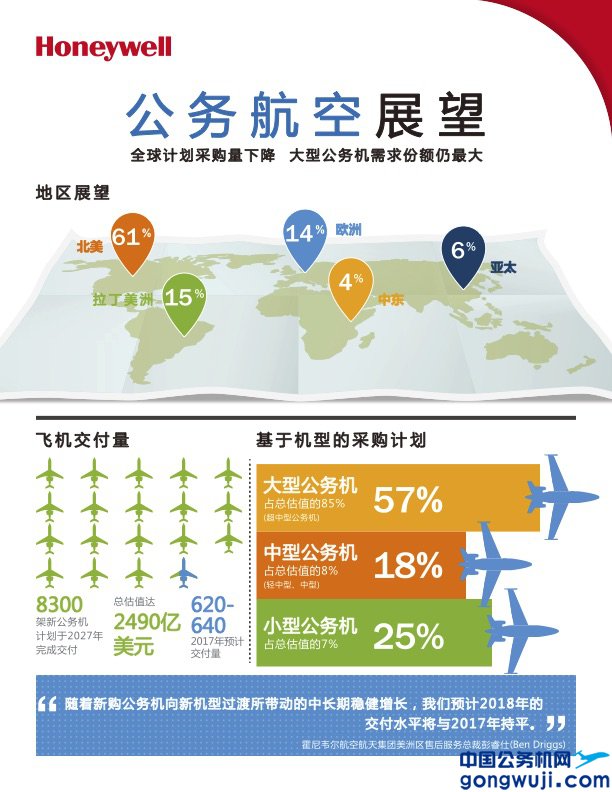 "Declining used aircraft prices, continued low commodities prices, and economic and political uncertainties in many business jet markets remain as near-term concerns for new jet purchases, leading to a modest growth in 2018," said Ben Driggs, president, Americas Aftermarket, Honeywell Aerospace. "That said, there are several new and exciting aircraft models coming to market, which will drive solid growth in new business jet purchases in the midterm and long term."
Key global findings in the 2017 Honeywell outlook include:
·Deliveries of approximately 620-640 new jets in 2017, a decline of roughly 30 aircraft year over year. This pullback comes on the heels of a moderate decrease in 2016 and is largely due to slower order rates for mature airplane models and a transition to new models slated for late 2017 and 2018.
·Operators plan to make new jet purchases equivalent to about 19 percent of their fleets over the next five years as replacements or additions to their current fleet, a decrease of 8 percentage points compared with the 2016 survey results.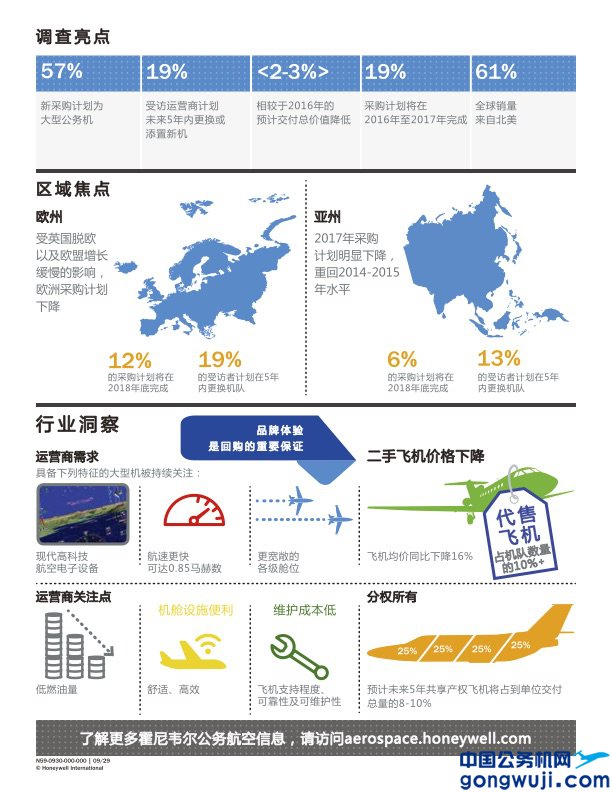 ·Of the total purchase plans for new business jets, 19 percent are intended to occur by the end of 2018, while 17 percent and 14 percent are scheduled for 2019 and 2020, respectively.
·Operators continue to focus on larger-cabin aircraft classes, ranging from the super mid-size through ultralong range, which are expected to account for more than 85 percent of all expenditures on new business jets in the next five years.
·The longer-range forecast through 2027 projects a 3-4 percent average annual growth rate despite the lower short-term outlook as new models and projected improved economic performance will contribute to industry growth.
·Declines in five-year operator purchase plans are offset in the long-term forecast by new programs entering service, improved economic performance and higher commodity prices, resulting in only a small decline in the overall outlook.
Brazil, Russia, India, China (BRIC) – Significant decline in Chinese and Russian purchase plans compared with last year drive lower BRIC results.
·Continuing the trend started in 2014, BRIC purchase plans are down this year following the rebound in 2016, reaching just over 19 percent. This rate aligns the BRIC composite to the world purchase plan rate.